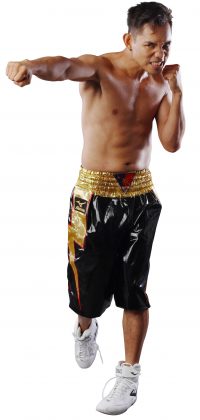 If you have ever made a commitment to lose weight and failed, you are not alone.
Every year, millions of people set a goal to become stronger and healthier — yet sadly, most will fall short of their goals. Many who achieve unsustainable, short-term weight loss will gradually gain back even more. What if you could break the cycle of weight gain and alter your mindset to lose the pounds for good?
TURN YOUR RESOLUTION INTO REALITY
Undisputed Mastery coaching system is personally designed by 7 Time World Boxing Champion Nonito "The Filipino Flash" Donaire and world renown Life Coach & Psychological Researcher Dr. Keith M Waggoner to teach you the strategies and psychology you must master to achieve your healthiest body, weight, fitness and create more vitality than you've ever had before.
This multi-media weight-loss system is not about a strict diet or finding a quick fix. It's about reconditioning your mindset and having super fun while you improve your life.
Weight loss, like any achievable goal, comes back to beliefs. To make changes that last, you need to transform your behaviors and your mindset, at its core. You need a conditioning process that will change your behavior long-term.
Undisputed Mastery Fitness and Health Coaching can help you make the shift in psychology you need to achieve and maintain a healthy body.
Schedule a FREE session today and start living at the next level:
• Increase your income with the psychology of abundance
• Develop a more passionate intimate relationship
• Create the body you deserve
IN YOUR POWERFUL 30-MINUTE STRATEGY SESSION YOU WILL:
Define your vision.
Set challenging goals.
Create a plan of action to achieve extraordinary results.